Childs Development Seen Through Their Poems
A child's development can be seen not only in what they do, or how they behave, but in what they write.
A child sees through the eyes of innocence, and when they put their thoughts down on paper they are so meaningful, and often so enlightening to parents and adults, they can take your breath away by the pure simplicity, and yet the deep meaning that the child has written straight from the heart.
Children say the most meaningful words without realizing how empowering those words are to others.
The three poems below have been written by my grandchildren, Samantha aged 10 and Emily, aged 5, and as I read them for the first time, I thought about other children throughout the world who may have written poems, and who might like to see them on this website.
I know my granddaughters are going to be really excited when they see their poems on here for the whole world to read!



With Me
You are with me and in me
Beside me and in my heart
And in my thoughts
You are mine and ours
You are there with us
And especially with me


By Samantha Drummond




Lost


Where are you
Will you help me through
The good
And bad times
In life that we share together


By Samantha Drummond & Emily Drummond




Love


Love is all you would need
Love brings us together to be one
We all will love and will together
Love is stronger than strength
Love is like two people together
Love is happy and kind words


By Samantha Drummond



Has Your Child Written Wonderful Poems?



Do you have poems written by your children? Would you like to share them with the world!

Positive Personal Growth would love to put them on this website for our visitors to read.

Imagine how thrilled your children will feel to know that not only their friends and family, but people in other countries throughout the world can read what they have written about.

We are looking forward to reading them!
What Other Visitors Have Said
Click below to see contributions from other visitors to this page...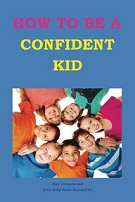 How To Be A Confident Kid:


Are you unsure, sad, or scared? Do you sometimes feel nobody likes or wants to be with you? Sam can help you learn how to cope with your problems. When she is confused her Grandma helps her and the advice works. Sam wants to share this advice with you. Discover how to cope when you are feeling unhappy or unsure about things. Sam knows lots of ways to help you become more confident. Thanks to the help from her Grandma she is growing into a happy confident kid. You too can be this way when you let Sam share the help she has been given with you.
This is a must have if you have a child with low confidence issues.

Don't miss out!
BOOK REVIEW: How To Be A Confident Kid.
In my opinion the review of this book can be summed up in one word FANTASTIC. It has been written through the mind of a child for the mind of a child, but in my opinion it is a good read for children of ALL AGES. It answers questions that every child would like to ask but quite a few don't, either through shyness, a fear of being told not to be silly, or else just being ignored.

Thinking back to my childhood years, I was one of those that wouldn't ask and would have loved a book like this to help me through. And just to finish off, I agree wholeheartedly with Samantha WELL DONE GRANDMA.
By Beryl Noble
Childs Personal Development Personal Growth Homepage Go from childs development page to Site Map