Self Motivation By Taking Action Will Improve Your Life
Are you looking to improve the way you feel about yourself? If the answer is yes, self motivation by taking action, is the answer.
Decide in what way you want your life to change. What is it you want to improve, what are the things you aren't happy with?
There are ways to help improve your life, and give you the self-confidence you may lack, to enable you to become how you want to be.
Don't worry about things that you have no control over. If you hope to improve your life because you are unhappy, this is something you are able to control.
So how do you want your life to be? Remember it's your life, and your decision, so you need to make sure it will be the way you want it.
You need to realize how special you are, and that you do have great potential. Tell yourself that you deserve to have the very best that life has to offer.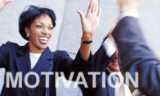 You really have to believe this so that you can live your life to the fullest. Make sure that you do what is needed so that you have what you want in your life.
Don't listen to comments from friends or family who may not agree with what you want to do. Stay in control of your life.

Set yourself a goal to work towards. A goal will keep you motivated. Write it down and place it where it can be seen as an incentive. Set a date that you hope to complete the goal by, and work slowly towards it.
When you have accomplished what you set out to do, write down another goal. Keep the goal small and it will be achievable.
As each goal is reached, your self-confidence will grow. The more confident you become, the easier each goal will seem to be.
When you continue in this way, you will eventually have your life the way you want. It may not be easy, but good things take time! Don't give up, just keep working slowly, and surely, towards living your life in the way you want it. Get the "I can do" attitude.
Self motivation is the key to success.


Quotes
Is The Effort Too Much?
Motivation
Lacking Drive
Motivational Story
Motivation Plus Willpower
Articles
Go from Self Motivation Page to Homepage
Site Map