Inspirational Stories To Give You Those Warm Fuzzy Feelings
There are many inspirational stories being passed round on the net via email. Some of them are very heartwarming and have meanings to them. They make you feel good and give you warm fuzzy feelings. Then there are others that make you stop and think about things.
I have saved some that I like and thought I would share them with you.
I have no idea who wrote these inspirational stories so am not able to put any names to them. If an author is known I am happy to add it of course.


---
What's interesting about inspirational stories is that sometimes we can relate personally to them.

A friend of mine owns a horse, and in the paddock next door to where her horse is kept, are two horses. One of them is blind, and although the other one does not wear a bell, he does seem to watch out for his friend.


---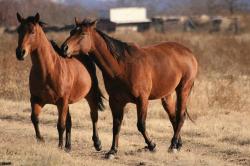 Just up the road from my home is a field, with two horses in it. From a distance, each looks like every other horse. But if you stop your car or are walking by, you will notice something quite amazing.

Looking into the eyes of one horse will disclose that he is blind. His owner has chosen not to have him put down but has made a good home for him.
This alone is amazing. If nearby and listening, you will hear the sound of a bell. Looking around for the source of the sound, you will see that it comes from the smaller horse in the field.

Attached to her halter is a small bell. It lets her blind friend know where she is, so he can follow her.
As you stand and watch these two friends, you'll see how she is always checking on him, and that he will listen for her bell and then slowly walk to where she is, trusting that she will not lead him astray.

When she returns to the shelter of the barn each evening, she stops occasionally and looks back, making sure her friend isn't too far behind to hear the bell.
Like the owners of these two horses, God does not throw us away just because we are not perfect or because we have problems or challenges. He watches over us and even brings others into our lives to help us when we are in need.
Sometimes we are the blind horse being guided by the little ringing bell of those who God places in our lives. Other times we are the guide horse, helping others see.
Good friends are like this. You don't always see them. Please listen for my bell and I'll listen for yours.
What a wonderful inspirational story.


---


This inspirational story has lots of good advice.
Be kinder than necessary, for everyone you meet is fighting some kind of battle.

As we grow up, we learn that even the one person that wasn't supposed to ever let you down probably will.

You will have your heart broken probably more than once and it's harder every time. You'll break hearts too, so remember how it felt when yours was broken.

You'll fight with your best friend. You'll blame a new love for things an old one did. You'll cry because time is passing too fast, and you'll eventually lose someone you love, but you know they are always there.


So take too many pictures, laugh too much, and love like you've never been hurt because every sixty seconds you spend upset is a minute of happiness you'll never get back.

Don't be afraid that your life will end, be afraid that it will never begin.


---


When you read this inspirational story through to the end you will see things are not always what they seem.
Two traveling angels stopped to spend the night in the home of a wealthy family.
The family was rude and refused to let the angels stay in the mansion's guest room. Instead the angels were given a small space in the cold basement.
As they made their bed on the hard floor, the older angel saw a hole in the wall and repaired it. When the younger angel asked why, the older angel replied, "Things aren't always what they seem."
The next night the pair came to rest at the house of a very poor, but very hospitable farmer and his wife.
After sharing what little food they had the couple let the angels sleep in their bed where they could have a good night's rest.
When the sun came up the next morning the angels found the farmer and his wife in tears. Their only cow, whose milk had been their sole income, lay dead in the field.
The younger angel was infuriated and asked the older angel how could you have let this happen? The first man had everything, yet you helped him, she accused. The second family had little but was willing to share everything, and you let the cow die.
"Things aren't always what they seem," the older angel replied. "When we stayed in the basement of the mansion, I noticed there was gold stored in that hole in the wall.
Since the owner was so obsessed with greed and unwilling to share his good fortune, I sealed the wall so he wouldn't find it."
"Then last night as we slept in the farmers bed, the angel of death came for his wife. I gave him the cow instead. Things aren't always what they seem?


---

Did you know that those who appear to be very strong in heart, are real weak and most susceptible?
Did you know that those who spend their time protecting others are the ones that really need someone to protect them?
Did you know that the three most difficult things to say are: I love you, Sorry, and Help me.
Did you know that those who dress in red are more confident in themselves?
Did you know that those who dress in yellow are those that enjoy their beauty?
Did you know that those who dress in black, are those who want to be unnoticed and need your help and understanding?
Did you know that when you help someone, the help is returned in two-fold?
Did you know that it's easier to say what you feel in writing than saying it to someone in the face? But did you know that it has more value when you say it to their face?
Did you know that if you ask for something in faith, your wishes are granted?
Did you know that you can make your dreams come true, like falling in love, becoming rich, staying healthy, if you ask for it by faith, and if you really knew, you'd be surprised by what you could do.
But, don't believe everything I tell you, until you try it for yourself, if you know someone that is in need of something that I mentioned, and you know that you can help, you'll see that it will be returned in two-fold.
---

There are many types of inspirational stories about different subjects. Its surprising to me how many of them hit home and mean something.
Sometimes when you are feeling low inspirational stories just seem to make the day a bit brighter don't you think?


Paul's Story
Dean's Story
Motivational Stories
Go from Inspirational Stories to Personal Growth Homepage
Go from Inspirational Stories to Personal Growth Site Map