How Does Meditate As Deep As A Zen Monk Sound to You? Holosync Makes It Possible
Have you heard of Centerpointe and the Holosync Technology?
If you want a good meditation program that really works, this is it!
My first introduction to this program was in 2004 when a card was dropped into my mailbox, and it read, 'Would you like to meditate as deep as a Zen Monk?' I thought to myself "You betcha!" and sent away for the free CD.
I was not disappointed, and I am certain if you send away for it you will want more!
The first CD is called The Awakening Prologue, and you wont be disappointed.



With this technology you can meditate as deeply as a Zen monk, the very first time, you try.
Not only that, within a very short period of time-days or weeks instead of years or decades-you could begin receiving physical health benefits, mental health benefits, clarity-of-mind benefits, relationship benefits, and overall sense of well-being benefits. What's even better is that you don't have to learn any complex mental gymnastics, or spend hours a day to get all of this.
Sounds good doesn't it? It is good!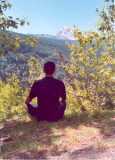 This program was created by Bill Harris in 1989. It is a comprehensive program - now used by over 160,000 people in 172 countries-centered around this remarkable Holosync audio technology.
The program will accelerate your mental, emotional, and spiritual growth in ways that will absolutely amaze you.
It creates states of deep meditation and gives you the benefits of long-term, deep meditation, but much more quickly.

* Boosts intelligence and creativity
* Dramatically lowers stress-raises your threshold for what you can handle coming at you from the world.
* Creates new levels of self-awareness and inner peace.
* Heals unresolved emotional issues at the deepest level, including anxiety, depression, anger, substance-abuse, fear and many other dysfunctional feelings

Awakening Prologue includes three powerful Holosync soundtracks, comprehensive personal support, and a huge package of introductory materials explaining how to get the most from the program.

The extensive follow-up, support, and education materials help you get the most from the program. Program support includes follow-up letters, hotline access to their professional coaching staff whenever you have questions or need special attention, and access to their exclusive program participant web site.

All provided at no additional charge!
In addition to the primary Holosync soundtracks, Awakening Prologue also comes with the following FREE Bonus soundtracks:

Quietude: A beautiful and very relaxing soundtrack that features the Holosync technology at the alpha level, the brain wave pattern of super learning.
Oasis: This soundtrack will take you deeper, into the theta brain wave state, a state of increased creativity.

Super Longevity: A very special 2-soundtrack set specially engineered to create powerful changes in important brain chemicals related to aging and longevity, including DHEA,cortisol, and melatonin.

A series of follow-up support letters sent every two weeks for the first six months describing, week by week, what is likely to happen, what it means, and how to deal with it.

Various Special Reports designed to help you understand Holosync and how it works
The CD comes with a 12 month money back guarantee and to my mind if Centerpointe are prepared to give a guarantee like this on their product, it's got to be good!

I know, like me, you will gain great benefit from the Holosync Technolody. You will grow as a person and feel far more confident, and able to cope with everyday life.
One thing is for certain, I am sure this meditation will help you in any area of your life that you need it.
This truly is an amazing meditation program.
......Positive Personal Growth Newsletter......
Download 2 Free E-books
Guaranteed Thinking
and
Accomplish Anything You Want In Life
When you subscribe to our newsletter
Meditation
How to Meditate
Inner Peace
Go from Holosync to Homepage
Site Map