Encourage Personal Growth In The Way That's Right For You
A great way to encourage personal growth is to read about others who are achieving personal growth in the way that is right for them.
It is always an inspiration to read about someone who is determined not to give in.
It is not always easy to keep a positive mental attitude when things go wrong but as you will see from the following article taken from the New Zealand TV Guide Suzanne Paul definitely has the right attitude about personal growth and development.



---
It Pays To Be Positive
She may have made millions giving the nation a Natural Glow, but Suzanne Paul knows what life is like on the other side, too.
When her Maori tourism venture, Rawaka, was closed down before it even opened, Suzanne lost a fortune and was declared bankrupt.
But it's simply a small setback for the perpetually positive Brit, who is now climbing her way back to the top.
"People always say 'How come you're successful again and other people fail?' and there's only one reason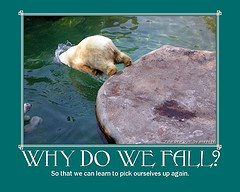 - that's because I just keep getting up and having another go," explains Suzanne.
"That's all it is - it's just never giving up. Even when you fail spectacularly, the next day you have to pick yourself up and make a new plan and start again."
"And that's what I do, even if I don't feel like it."
"Eventually you get in it and you get your energy back and your passion comes back, and, until then, you

fake it till you make it."
Attitude
Positive Growth Development
Personal Development
Positive Power of Negative Thinking
Personal Growth Homepage
Go from Encourage Personal Growth to Site Map